What is AdBlue?
AdBlue is a solution consisting of extremely high purity urea dissolved in de-ionised water. The ratio of the mix is approximately 32.5% urea and 67.5% de-ionised water.
AdBlue never comes into contact with the fuel and it is a common misconception that it is a fuel additive. AdBlue is carried onboard the vehicle in a separate 60 to 110 litre tank and is injected into the exhaust gases as a post combustion process through an SCR System that breaks down the harmful NOx (Nitrous Oxide) emissions into mostly Nitrogen and Water Vapour.
SCR systems are extremely sensitive to potential chemical impurities in the urea solution. In order to ensure that the SCR system continues to work effectively, care must be taken to ensure the purity of the catalyst and the reducing agent. Even small amounts of contaminant can severely impact the performance of the SCR system.
There are basically two methods used to manufacture AdBlue. The 'Hot-Melt' Virgin Urea production method is widely accepted across the industry as producing the highest purity grade of AdBlue. This is because it eliminates the risk of contamination during manufacture. The urea is in its 'virgin' liquid state when it is combined with the de-ionised water so there is no chance of contaminants being introduced during manufacture.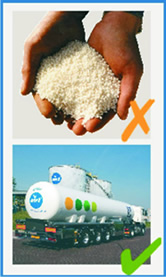 The other method of manufacture is by the dissolution of solid urea in de-ionised water. Although this method may meet the ISO and DIN standards set by the VDA there is a strong chance that the solid urea could have contaminants present from the manufacturing process and also from bulk storage and handling in typical open warehouse environments.
Contaminants are the biggest cause of damage to an SCR System and the repair costs are expensive, for example an AdBlue Dosage Pump can be around $5150.00, a Urea Injector is approximately $240.00 and the item most likely to be irreversibly damaged is the Catalyst at around $9500.00.
Manufacturing quality control for AdBlue solutions are governed by DIN70070 and ISO22241 standards to ensure the correct selection of handling equipment is used and that the chemical specifications are correct.
The standards do not govern contamination in the urea so if you want to substantially reduce the risk of damaging the SCR System then NEVER use AdBlue that is manufactured by dissolving solid urea.